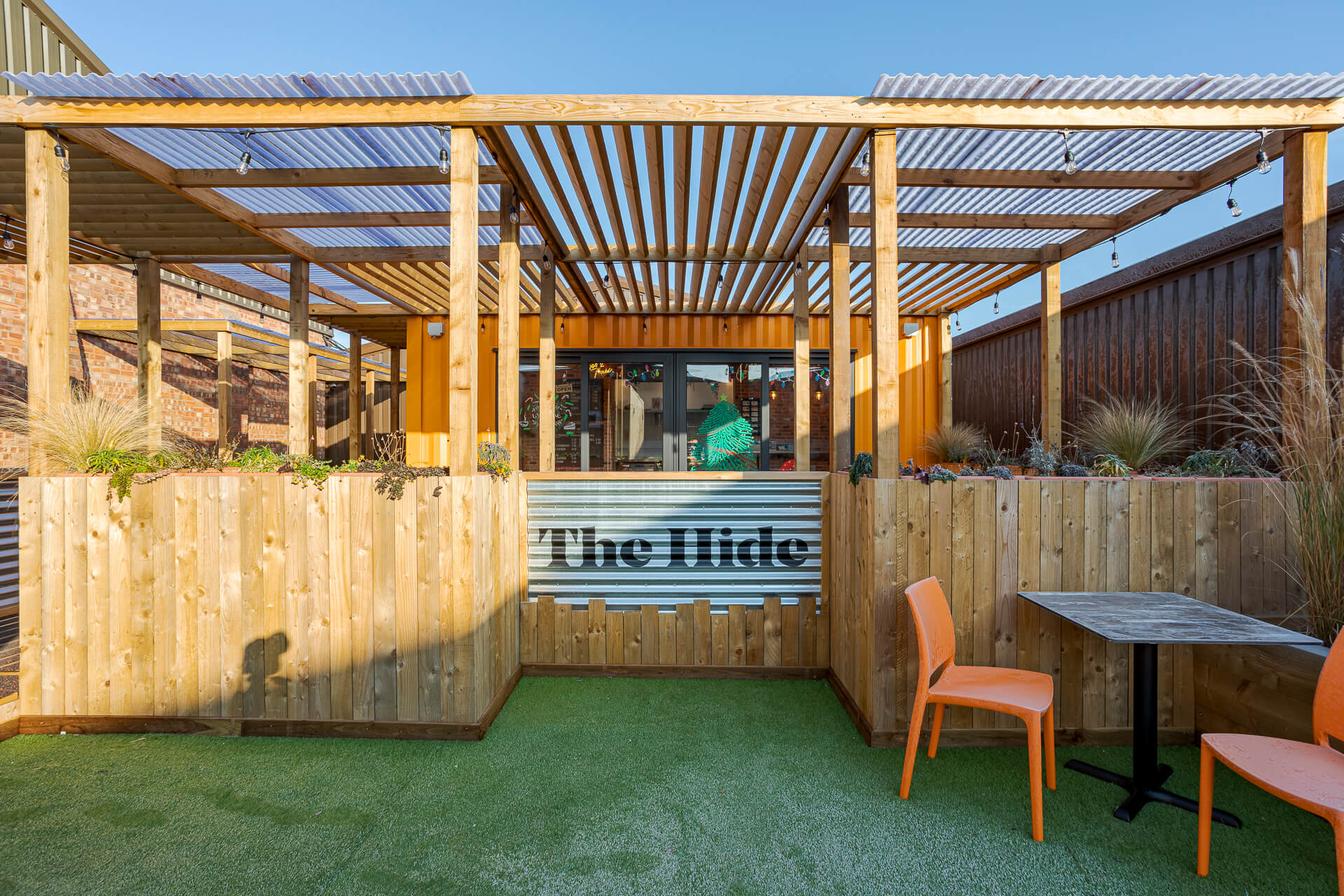 Caffeine Project – Squab Workspace
The Caffeine Project is a coffee company run by husband and wife Rafael and Lisa Hernandez.
The mission when they formed in 2018 was to provide high-quality coffee with high-quality service – and a presence at Squab, near Leamington, has been key to their success.
The husband and wife team– who met in a Mexican tattoo parlour one New Year's Eve – now run two cafes in the area including The Hide at Squab HQ.
Why did you start Caffeine Project?
Rafael: I worked for a large multi-national company which sold coffee directly to restaurants, cafés and hotels. It was a highly-successful operation and a great company to work for but I didn't feel that it was reflecting the rise of the independent coffee offer in the UK.
So, I decided to open my own coffee business which was a big step but I had experience to back-up my beliefs. I had visited the farms, been to the main factory in Italy and obviously I had dealt with coffee shops and cafés for a decade.
But we wanted to ensure that we gave the highest levels of service to our customers and for that reason we wanted to stay local to Warwickshire and the surrounding area.
The company I worked for treated me really well for all those years, so for that reason I would not approach their clients.
How does the business work?
Lisa: We buy the beans – which are mainly South American origin – and work with our roaster to create our unique blends and single origin. We designed all the packaging – using local Leamington artist Emily Kaye.
To begin with it was Rafael just hitting the road and approaching clients. Although he had the experience and the knowledge, they didn't know who he was and they had to trust him with their core product.
I really admire how hard he worked to get it off the ground and also his decision not to approach the clients of his former company. I remember him saying that there was enough business to go round – and I really respect him for that.
Rafael: Because of my experience, I have also been able to offer advice on which coffee machines to buy and training on how to use them properly to get the best cup of coffee. You often find businesses spend a lot on fit-out and marketing but then buy a poor machine, or buy very expensive equipment but don't know how to use it to its potential. I can help with that and provide on-going training.
How has the business evolved?
Rafael: It took us a couple of years to get to the level we wanted to reach to really make the business work – and then Covid hit!
We really had no choice in the matter, we had to evolve. All the restaurants and cafés closed and we lost about 90 per cent of our business. The only way to sell coffee was online, but fortunately we had our website up and running and was able to do that.
A clear movement to buy local online started to develop and that boosted our sales, and then the cafés started to open for takeaways and that helped us grow. We actually took on customers during that time and they have stayed with us.
Lisa: Probably the biggest step we have taken is to open our own coffee house at Green's Home & Garden, at Binley Woods.
We had been mulling the idea over and had just missed out on a unit in Leamington when we heard the one at Green's was free. Raf knew the owners of the overall business because he had supplied the previous café operator with coffee, so we opened in November 2021, serving breakfast, lunches and sweet treats along with a full range of drinks.
It is building and we are hoping when the major roadworks outside our front door are finished, we will have a bigger profile and more people will realise we are there!
Rafael: We are also going to be doing our own roasting from there. We are concentrating on smaller amounts which will allow us to produce from speciality blends and limited editions, but hopefully it will start to grow.
Why are you based at Squab?
Rafael: Right from the off we needed somewhere to store all our products – coffee, tea, chocolate, syrups – so we started with a small unit. The model here is really flexible so it allowed us to scale-up very easily without all the ties of a traditional lease.
We knew of the plans for the business to expand and we have really seen that happen over the last three years or so. I knew Squab was considering an on-site café but had not really wanted to force myself on them, so we were delighted when they approached us to run The Hide.
Lisa: We genuinely could not be based at a better place. As Raf says, the model is so flexible that it is ideal for a business which is starting and growing. That has been invaluable to us.
But it is more than that. They people at Squab are just so approachable and clearly want all their tenants to succeed, and will do as much as they can to make that happen.
As the numbers of businesses based here has grown, they wanted to create a café and meeting place, and asked us to run it.
These things take time to grow, but just in the first few weeks we have seen businesses holding meetings here, meeting new people, mixing and networking. Right from the off it has had a buzz and there is a real community feel.
Almost from the off, a few businesses asked if we could cater for meetings they might be having, so we have provided lunches, nibbles and drinks for a few of them and we are keen to grow that side of the business.
We are also having road signage installed so that people who would like quality food and drink and a quiet place to enjoy it, can call in.
It is fair to say, that we only viewed Squab as a place to store products – but it has become so much more than that and has really helped our business grow. The more I meet people in The Hide, it is clear they feel the same way and it creates a strong feeling of positivity.
Enquire now or book a tour
If you'd like to know more about the incredible workspaces on offer at our Leamington, Evesham, Rubery or Stowmarket facilities, simply fill in the form below. Our friendly team will be happy to answer your questions, discuss your needs and schedule a tour of our facilities at a time and date that suit you.