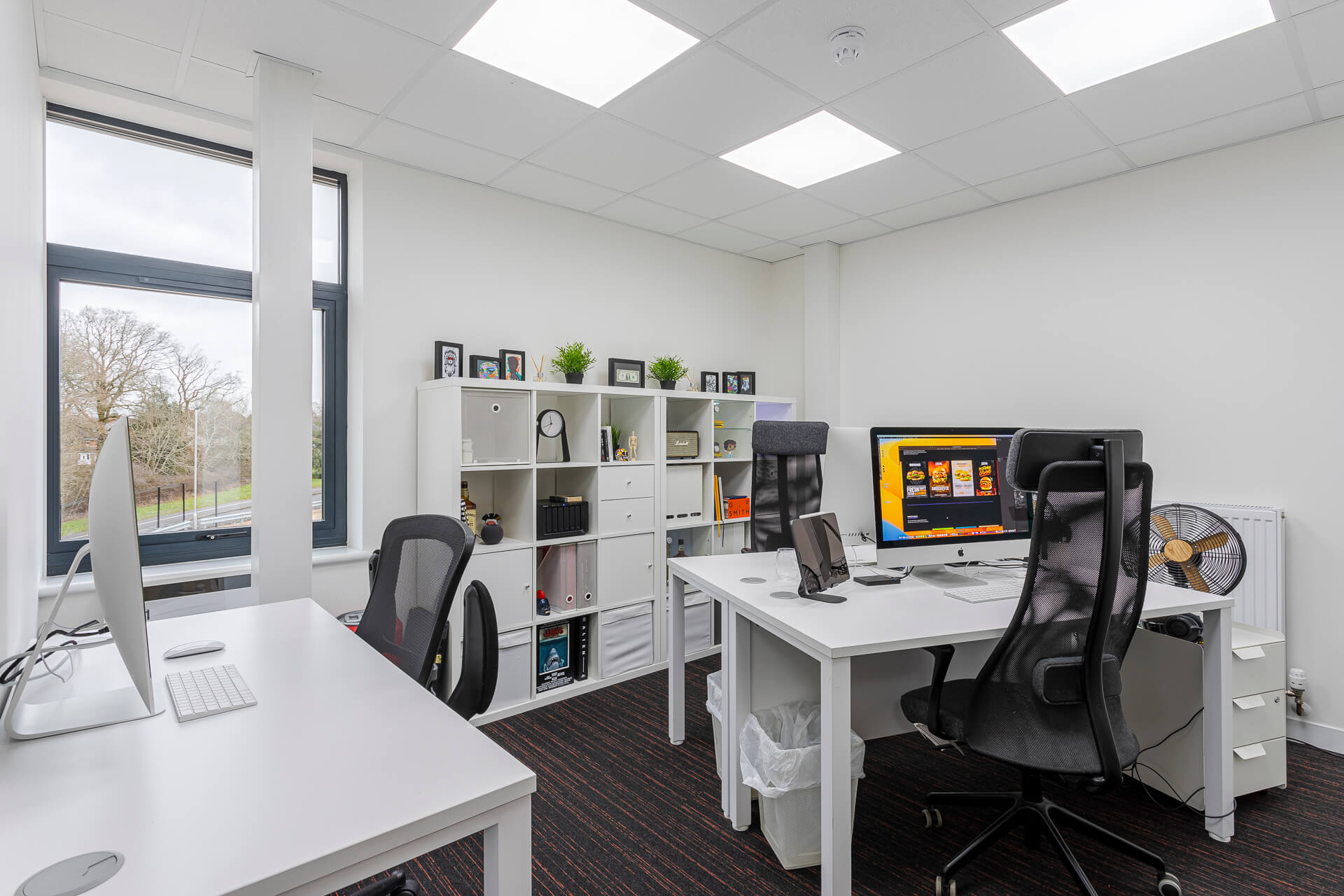 Paperock Creative – Squab Workspace
Paperock Creative is a creative design agency based at Squab Business Centre in Rubery. The business was founded in 2018 by Martin Granner and Carla Cole who previously worked together at a global advertising agency.
They have overcome a number of both personal and professional barriers since launching, but their recent life experiences have given them the desire and determination to do more for clients by taking risks, thinking big and standing out.
Why did you start Paperock Creative?
Carla: I'd been working at a global advertising agency for seven years and Martin had been there four years. We have both been in the industry all of our lives and we were working for a number of high-end clients and gaining a lot of experience.
We worked hard for long hours, so when there were talks taking place within the company about possible redundancies it was a conversation at the pub which led us to starting the business. We felt we were good at what we do and this was the right route for us.
Martin: We both left the agency within three months of each other with no serious plan and only had a month's wages each and a laptop.
We didn't plan ahead, we just did it. We launched the business, ironically, on Friday, April 13, only had one client and gathered more as we went to make sure we could keep paying the bills.
What services do you offer?
Matin: The main services we offer are branding, logo design, advertising, video and website design and development. We can also design everything from posters, leaflets, billboards and exhibition stands to product packaging and menus.
We work with clients across a wide range of industries – no two days are ever the same and we are open to all enquiries. Although we don't have a specific niche, one of our biggest clients currently is Burger & Sauce who came to us in 2018 not long after we set up with just a logo. Since then we have gone on to do the majority of their product branding and they are on track to have around 20 stores open by the end of 2023.
The work we have done with Burger & Sauce has led to us securing a lot of work with other businesses in the food industry who have required similar packages of work.
How has the business evolved?
Carla: About a year after we launched Paperock Creative I developed breast cancer which took me out of the business for a year. I originally thought it would only be around three months, but it's actually been a really long journey. I had seven operations and chemotherapy and Martin carried on working. I then began working again while having radiotherapy and it wasn't long before the pandemic hit so we were focused on doing anything we could to keep the business up and running.
It's been a really, really hard four years, but I honestly wouldn't change a thing. Yes, it's been tough – life has thrown a lot at us and we work really long hours, but we've secured some fantastic clients along the way. We've now just secured a couple of very big clients and are working on some large-scale projects which means that March and April 2023 are set to be our busiest months to date.
How did you come to be based at Squab?
Martin: We were originally based at an office in central Birmingham, but when the pandemic hit and we began working from home we quickly realised how inconvenient it had been to travel into Birmingham.
I first came across Squab when I was looking at storage units local to me and then realised they also have a business centre. We moved into Squab in April 2022 and it's extremely local to both of us so is very convenient.
I know a lot of freelancers and small businesses like to work from home, but we've found that working in an office gives us a professional space to be more productive. It's also a place where clients can come and visit and there's access to a meeting room if we need one.
Carla: The whole team at Squab have been great since we moved in and have helped us with anything we've needed. They have allowed us to redecorate, move our own furniture in and really make the space our own.
There is also a secure WIFI connection which is essential for our business, and it's nice that there's other businesses on site. It was an easy decision to move into our office – it's perfect for us and we're happy here, something that is incredibly important.
What does the future hold for Paperock Creative?
Martin: We are aiming to expand the business going forwards, growing our client base and adding to the services we offer. At the moment we only employ freelancers, but it would be fantastic to have a proper team so that we can work on the business rather than in the business, but still remain creative directors.
We currently have room for one other person in our office, but Squab has been incredibly accommodating and have said that we can expand as the business grows. It also has free on-site parking and excellent transport links which is not only good for clients, but also for potential employees.
Carla: I'd like to employ local people, such as young people from the nearby colleges, and provide them with training. I was really lucky in my career that I was given the opportunity to learn on the job and gain experience from others in the industry, and I'd now like to give something back by giving others the same opportunity.
At the moment we have to turn our hand to everything, and although we don't want to grow too big, it would be fantastic to eventually have a team of up to 30 people.
Enquire now or book a tour
If you'd like to know more about the incredible workspaces on offer at our Leamington, Evesham, Rubery or Stowmarket facilities, simply fill in the form below. Our friendly team will be happy to answer your questions, discuss your needs and schedule a tour of our facilities at a time and date that suit you.