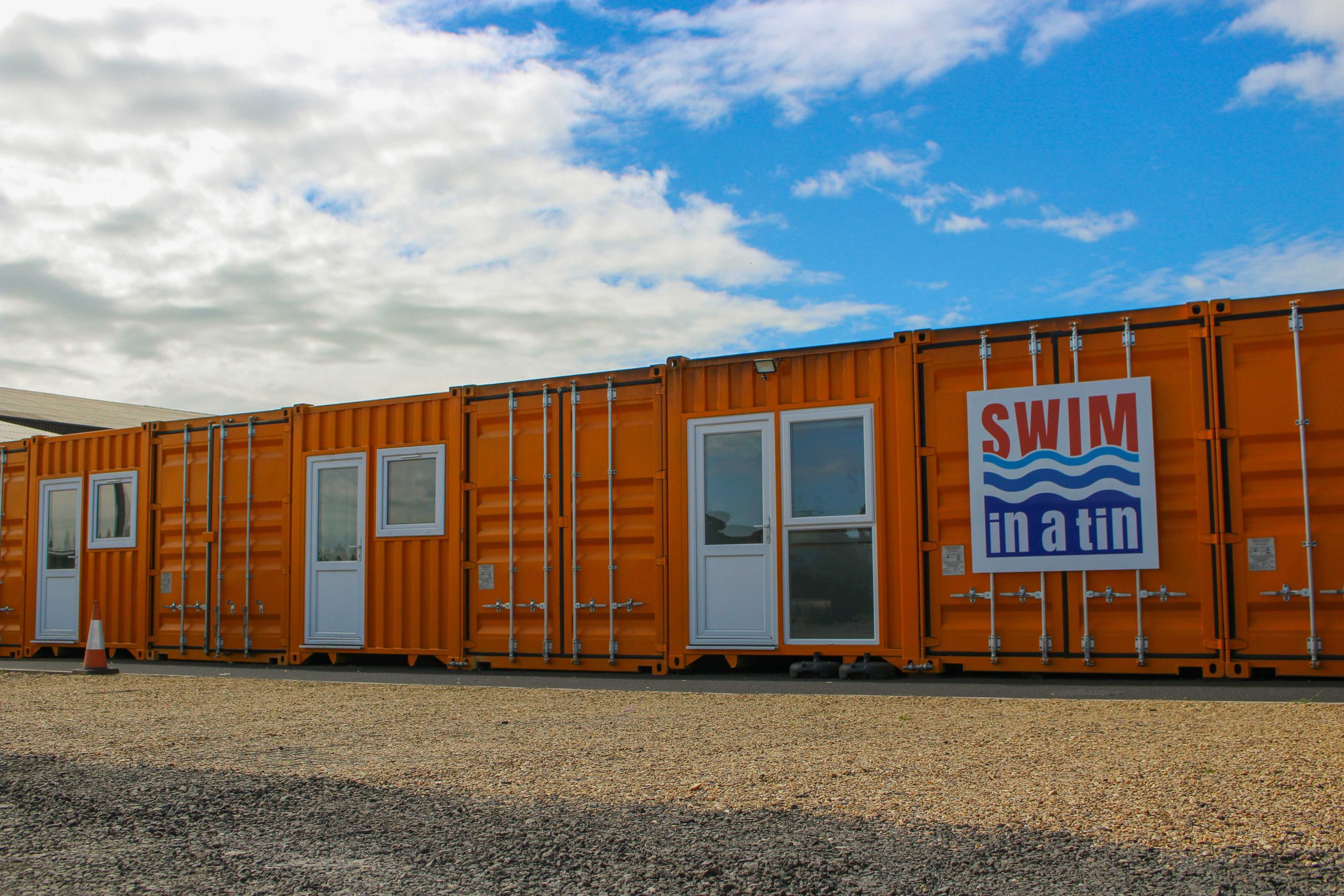 Swim in a Tin – Case Study – Squab Workspace
­­Start-up businesses? How can we as an industry help.
At Squab Storage we offer the ability to utilise a storage unit or container from which to run a business. We have had two very big success stories from this, one is Alfredo's Barber Shop in Evesham. The other is a Swim in a Tin. Alfredo's Barber Shop was a very simple project, we installed and created a room within a self-storage room. Swim in a Tin however was significantly larger project but one that we are so privileged and proud to have worked on.
I caught up with the two Directors and Founders of Swim in a Tin, Helen and Nick, and asked a few questions about their business and how Squab Storage has helped them make it a reality.
So, Nick and Helen firstly tell me a bit more about Swim in a Tin and it's back story?
We both learned to swim later in life after a poor experience earlier in our younger years. This experience created a spark of a business idea, the provision of a private, accessible and unique swimming experience where you can have fun, gain confidence and achieve your swimming goals.
We see ourselves as your swimming partner, here to support anyone who feels uncomfortable going to a public pool for whatever reason.  It is a different experience, it is a new way of swimming and essentially, it is focused on supporting your individual needs. We offer 1-2-1 and 2-2-1 lessons for children and adults as well as flexible "pay as you swim" sessions.
What was your business space situation before you contacted Squab?
As Swim in a Tin was a new start up, we did not have a previous business space. That said we did have a clear idea of the customer experience we were looking for and the facilities we wished to provide. We investigated a number of other business parks and commercial spaces but drew a blank, but unable to support a venture of this nature. Helen already had a relationship with Squab and so we made contact to discuss what we were looking to do, to try and understand the art of the possible.
How Squab help you achieve your desired business solution?
When an opportunity to provide a private swimming experience for 5-year-olds and upwards with both instruction and "pay as you swim" options, we had to explore the idea further. It turned out, buying a pool was (relatively) straight forward.  Finding the right location for it was far more difficult. Luckily, we found ourselves talking to Squab and we grabbed the opportunity to tour some potential buildings.  Our hearts sank when they suggested using a container or in our case 3 containers. Our imaginations conjured up a picture of a cold, rusty old container.  It was hardly the tailored, friendly and boutique experience we were hoping to create. Fortunately, the reality couldn't be more different and once we fully engaged with the possibilities, Swim in a Tin was born, opening in February 2022.
Starting a new business is always a challenge, doing something that has not been done before requires more than just a landlord. Squab are a true partner to our business, accessible and supportive, built on strong relationships. We would not have been able to launch our business without the support of Squab. This has support has continued post launch. We wholly recommend working with Squab and see our relationship as a long-term partnership.
What do you like most about working in a Squab Storage Facility?
The ability to build a space that works for our business, underpinned by the support from Squab. We are excited to be part of Squab's vision for the Leamington Spa site.
As you can see from the comments above, helping any new business has its ups and downs but the outcomes from it can lead to long standing working relationships. In addition, supporting Swim in a Tin and our other onsite businesses has helped us gain exposure and brand awareness in the area. That's come from people visiting site, Facebook posts, local articles and of course marketing from the business side.
If you want to take control of your swimming goal and live locally to the Leamington Spa Squab site then please do book a session. Just visit https://www.swiminatin.com/ for more information.
Enquire now or book a tour
If you'd like to know more about the incredible workspaces on offer at our Leamington, Evesham, Rubery or Stowmarket facilities, simply fill in the form below. Our friendly team will be happy to answer your questions, discuss your needs and schedule a tour of our facilities at a time and date that suit you.